Do you have things to sell on eBay and need money fast?
There are many ways to make money online, but if you need cash right now then eBay is your best friend.
The platform consistently ranks as the most popular online marketplace in the U.S, and it's easy to see why. When you list an item on eBay, you have a ready-made customer base of 180 million active buyers around the world.
With eBay, you can list an item for sale, and have the money in your bank account within a matter of days. Sometimes even hours. 
In this article, I'm going to be talking you through the best things to sell on eBay. These items have high conversion rates and high profits. So, if you're looking for quick cash, start with selling these items.
The Best Things to Sell on eBay
You can sell brand new and used items on eBay.
However, today I am going to be specifically talking about reselling used items on the platform. 
As consumers become more environmentally aware, many are turning towards buying second-hand items.
Buying second-hand saves items from landfills and reduces your carbon footprint. It can save a lot of money too, so it's a no-brainer really. That's why the user base of eBay continues to grow.
Here are the best things to sell on eBay for a greater chance of quick profits.
Lego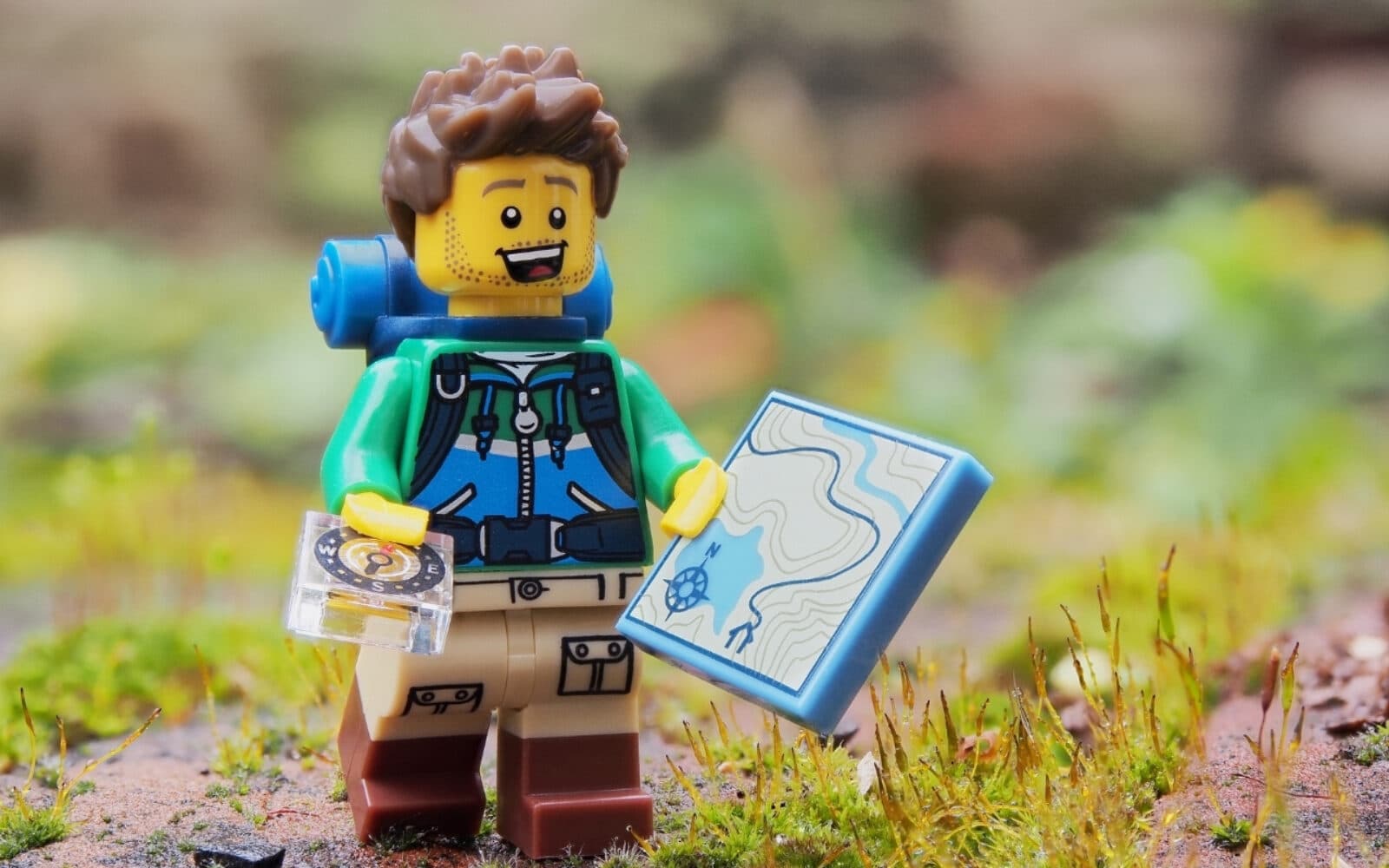 Everyone knows and loves Lego.
It's a household name, and one of those toys that have truly stood the test of time. Its popularity is growing, with no signs of slowing down. In fact, Lego's annual revenue last year showed a growth of 13% year on year.
There are a few different ways you can profit from reselling Lego:
Buy mixed lego bricks, and resell by weight
Purchase good condition second-hand sets to resell
Buy new sets at a discount and resell online (retail arbitrage) 
Buy new sets, hang onto them until they are discontinued, and sell for a profit
The best places to hunt for Lego are yard sales and thrift stores.
Sometimes you can even find them on Facebook marketplace or Craigslist, but you will need to keep your eyes peeled for a good deal.
---
Vintage Clothing
Vintage clothing is one of the best things to sell on eBay.
It can have a high average selling price, and you might already have some pieces in your own home to sell.
You can find vintage clothing to resell on eBay at thrift stores, as well as yard sales.
Once you have found items to resell, the key is to take great pictures and write juicy descriptions to get your listings noticed.
It's also worth purchasing a mannequin to photograph your vintage clothing on so buyers can see how it looks.
Here you can see some of the highest value sales of vintage clothing on eBay. 
It's important to do your research with vintage clothing to make sure you sell your items for the highest price.
Look at the tags carefully and make sure your descriptions are detailed.
---
Musical Instruments
Musical instruments sell well on eBay.
People often sell unused musical instruments in yard sales, not realizing their true value. The key when buying musical instruments to resell is to look out for popular brand names.
Some of the highest value musical instrument brands include:
Bach
Conn
Shure 
Yamaha
Fender 
Gibson
Jupiter
If you see a musical instrument and you don't recognize the brand name, open up your eBay app and type the name into the search bar.
I've been selling products on Amazon since 2014.
Want to know the research tool I've been using since I've started (and still use today)? Get my latest tips and how to guide for using this tool.
See the Full Jungle Scout Review
Select the 'sold' listings and see for what price other instruments of the same brand are selling.
Checking completed listings will give a solid indication of how much you might make when selling.
You can also consider starting a music affiliate site with these music affiliate programs.
---
Antiques
Antiques are one of the most profitable items to sell on eBay.
That is if you can find them for the right price!
Ebay is one of the best marketplaces for buying and selling antiques. It gets you in front of buyers around the world who are willing to pay for what they want!
The best place to look for antiques to resell is estate sales and auctions.
These sales and auctions are often local and in 'in person' rather than online. Sellers at auctions want their items sold quickly, so you can often find some amazing bargains at these places.
---
Textbooks
You might be surprised to learn that textbooks can be a very profitable thing to sell on eBay.
The great thing about reselling textbooks is they are easy to store (just stack them up) and easy to post. You can simply pop them in an envelope to post them, so there are no complicated packing methods involved.
You can find used textbooks to resell at thrift stores and yard sales. People often donate textbooks without a second thought, but they can resell for hundreds of dollars, so snap them up if you can find them.
---
Dresses
Women's dresses are a great thing to sell on eBay, particularly if you want a quick sale.
Dresses are always in demand, and they are easy to find too.
The best places to find dresses to resell on eBay are:
Facebook marketplace
Thrift stores
Yard sales
Your own home
Family and friends
Dresses sell best with a 'Buy it now' price rather than an auction, which can be risky. Buy it now items may take slightly longer to sell, but you are far more likely to get the price you want this way.
---
Cameras and Camera Gear
Cameras and photography gear are always in demand.
People love vintage cameras in particular, but all types of cameras tend to do well on eBay. The best place to find used photography gear is at yard sales, thrift stores, and even estate sales and household auctions. 
Items to look out for include:
Cameras
Lenses
Camera straps
Tripods
Camera Bags
eBay is a great place to resell cameras and photography equipment.
You can pick up old 35mm cameras for a couple of bucks and resell them on eBay for $50-$200. Some rarer models even sell for upwards of $1,000.
---
Video Games
Video games are a great thing to sell on eBay for a profit. They are easy to come by and easy to sell quickly. 
Some of the most popular selling games on eBay include:
Pokémon Sword
Madden NFL Football
Animal Crossing
Pokémon Go
Borderlands
Wii Sports Games
Super Mario Bros
There are so many different games out there for the range of consoles.
To check if a game is profitable before buying it, be sure to use the eBay app and check the sold listings.
---
Old-School Gadgets and Games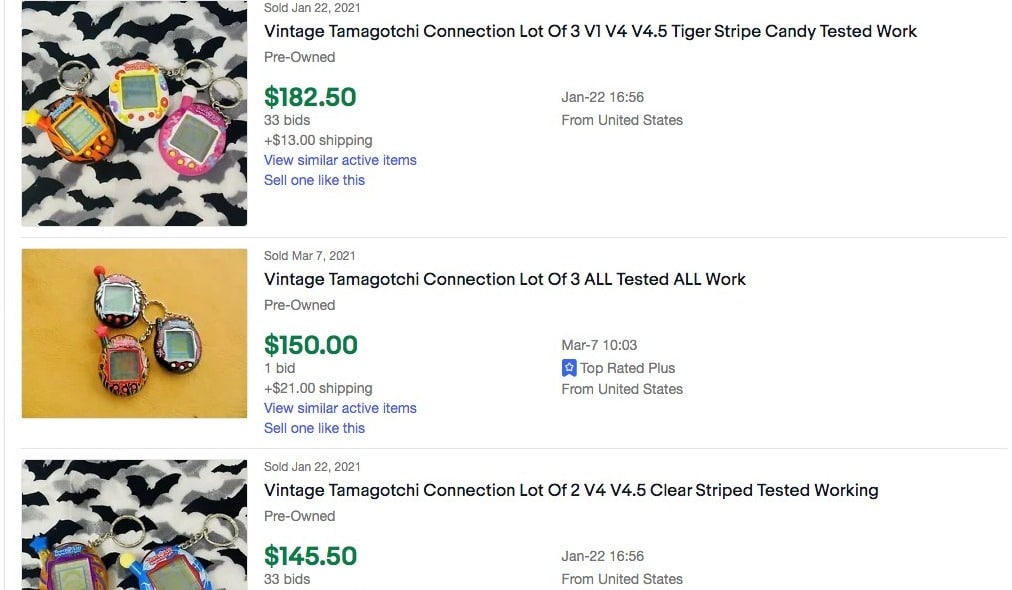 Remember the Tamagotchi?
They now sell for upwards of $50 each on eBay!
Old School gadgets and games can make you good money, especially if they are still in their original packaging.
You can find retro gadgets and games to sell for a profit at garage sales and even thrift stores. Keep an eye out for boxed items, and be sure to check that whatever you buy is in working order.
---
Baby Gear
Baby gear is always in demand.
It's expensive to buy new, and most items are only needed for a short while which is why many people turn to eBay. 
Some items to look out for include:
Baby carriers
Strollers
Baby bouncers
Baby walkers
Swings
Playpens
Door bouncers
Activity centers
These items are all expensive to buy brand new, so if you can find them for a low price at a yard sale or thrift store, you could make a decent profit on eBay. 
Most of these items are bulky, so you will either need to list your item for local pickup or be prepared to arrange a courier.
---
Broken Electronics
You might think your broken iPhone or Apple watch is worthless, but did you know you can actually sell it for spare parts on eBay?
It's not just broken phones you can sell for spare parts. You can also sell:
Ipads
Kindle
Cameras
Video game consoles
Although selling broken electronics might not net you the big bucks, it can certainly be profitable. You can pick up broken items for practically nothing, so almost the entire value of the sale will be profit.
The other way to make money on eBay with broken electronics is to buy them and fix them up. If you know what to look for and what you're doing, this can be highly profitable.
---
Craft Supplies
People LOVE crafts, and eBay is one of the most popular places for people to buy craft supplies.
Here are some examples of craft supplies you could easily find to sell on eBay:
Buttons
Stickers
Beads
Colored paper
Pom-poms
Pipe cleaners
Wooden items for painting
If you're handy at woodwork, you could even sell slices of wood or wooden blocks.
Take a look at these sold listings.
5 Slices of a tree trunk for $25, and 10 slices for $76.
Not bad for something that might take 10-20 minutes work to create!
---
Furniture
Furniture is one of the best things to sell on eBay for a profit.
You can find unwanted furniture at your local rubbish tip, at a yard sale, at an estate sale, or even abandoned on the street.
If you are reselling furniture on eBay, you will need to give it a bit of love and TLC first.
Make sure it is clean and fix any damage. A fresh lick of paint and some new hardware will also make a world of difference.
---
Collectibles
People love to collect things.
There's something about the thrill you get from adding to your collection that is addictive. This is why collectible items can sell for such high prices.
If people want something to add to their collection they are willing to pay a price for it!
Some of the most popular collectible items include:
Anything to do with Disney 
Barbies
Military Items
Stamps
Anything Star Wars
Vintage Toys
Baseball Cards
Anime Figurines
Keep an eye out for any items that could be collectible when you go to thrift stores and yard sales. The condition is important, so look out for anything in its original packaging in particular.
---
Cars and Vans
Cars (and parts) are one of the best things to sell on eBay because of their high value.
The key to selling cars on eBay is buying them at the right price first.
The best place to get cars for a low price is at auction. People auctioning off cars want a quick sale, so it's a great place to grab a bargain!
Cars you buy at auction may need a clean-up and a few fixes, but once that's all done you can take some nice photos (20-40 to give the buyer a really good look at the car you're selling) and list it for sale on eBay.
Learn more about flipping cars here.
---
Finding Items To Sell On eBay
If you're just getting started on eBay, I highly recommend selling items you already own but no longer want.
This way you can make quick profits without really investing anything upfront.
Once you have run out of things to sell, there are a few other places you can find things to resell:
Yard Sales/Garage Sales
Thrift Stores
Flea Markets
Friends and Family
Facebook Marketplace
Auctions
Estate Sales
On the Street (Discarded Items)
Pictures are so important when it comes to selling on eBay.
Make sure you take lots of photos of each item, and always photograph your items using natural light.
Most Profitable Things To Sell On eBay
If you want to know whether an item will be profitable before buying it, you can do some quick research on your eBay app.
Type the name of the item you want to check into the search bar. Next, click 'filter' on the top right and scroll down until you can see buttons for 'sold items' and completed listings. 
Once you have clicked the sold items button it will turn green, and you will be able to see the sold listings with their final selling price in green. This will give you a good idea of how much your item could sell for.
Remember to factor in the shipping cost too, as this may affect your profit margin.
eBay Vs Amazon – Which Is Better?
Amazon and eBay are both great marketplaces to sell on, but the one that is best for you will depend on your goals.
For selling second-hand items, it's got to be eBay.
The unique thing about eBay is the fact that you have the ability to auction items, which can net you some huge profits, especially when it comes to rare and collectible items.
If you are selling new products, then Amazon is definitely the way to go.
Amazon is the leading retailer in the United States, and it has the added benefit of offering Amazon FBA (fulfilled by Amazon) which you can use to create a truly 'hands off' retail business.
Want to find out how you can start a t-shirt business on Amazon making $10,000 per month?
Read the guide 
What Sells Best On eBay
Becoming an eBay seller is a great way to make some quick cash.
You can list something for sale and have the money in your bank account in under a week even if you are a new seller. It's great for when you're in a tight spot. 
Hopefully, these ideas have given you some food for thought of what profitable items you can sell on eBay.
The thing to remember is to keep your eyes peeled for bargains wherever you go, and always use your app to check how profitable items will be before you buy.
---